Digimarc and the Digimarc logo are registered trademarks of Digimarc Corporation. The "Digimarc Digital Watermarking" Web Button is a trademark of Digimarc Corporation, used with permission.

Welcome to visit my new site DDezign's with my Graphics for adoption *S*

AOC April SOTM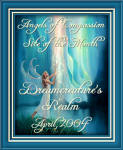 !! WARNING !!

Please be ware, the pages is of a huge volume and if your computer doesn't support, it might freeze or crash your system. I am working on to divide in various pages so it wouldn't be that heavy! Now it is done, so if you have been there before, Please reload so you'll have the new version of the page *S* Thanks!

Our Carnaval =)))

Music Playing here is Ose and performed by Yannick Noah "Yannick Noah Website" and "Ose"

Hi Yannick! If you or some friend of yours sees this, please tell Yannick to remember Lisbonne & Disco Bananas and me ;)), I miss those times.

In recognition of Creativity, Integrity and Excellence on the Web.

Thank you!!